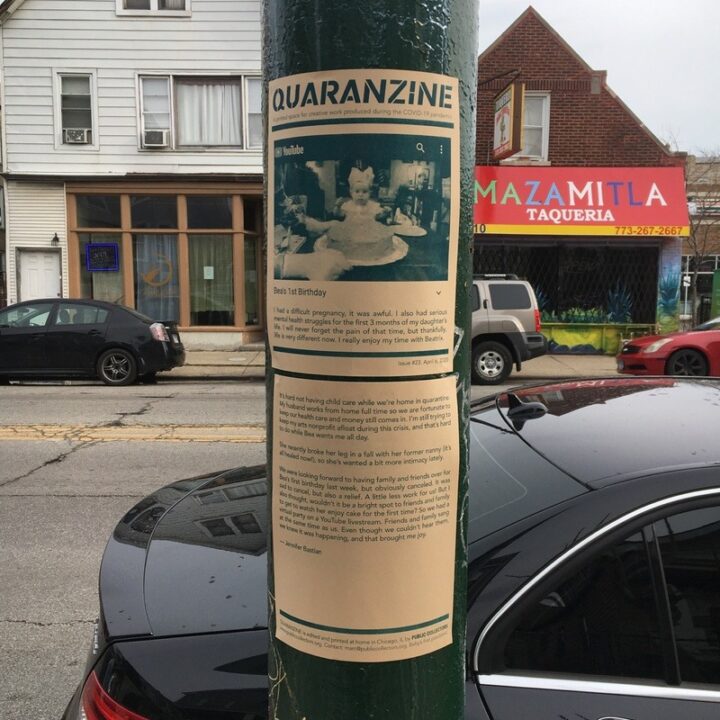 We welcome you to a talk by Marc Fischer as part of the cycle 'Solitary Solidarity'.
The Chicago-based artist and zine-maker will present his recent projects such as the publication Quaranzine, a one-page zine published as a daily response to the COVID-19 pandemic, and the artist-in-residence program The Courtroom Artist Residency. The evening will also include a conversation between Fischer and Hamja Ahsan.
The cycle Solitary Solidarity, curated by activist, artist and writer Hamja Ahsan, centers on strategies of surviving isolation through publishing practices. Hamja Ahsan explores the use of the Shy Radicals book and movement as a curatorial thread. This program in three acts centers on a consideration of solitary confinement through the prison system, psychiatric care and quarantine, and inquires how we can learn from each other while placed under different restraints.
Marc Fischer is the administrator of Public Collectors, an initiative he formed in 2007. Public Collectors aims to encourage greater access and scholarship for marginal cultural materials, particularly those that museums ignore. Public Collectors' work includes Quaranzine, which produced 100 single page publications with over 75 collaborators at the start of the COVID-19 pandemic. Public Collectors also initiated the Courtroom Artist Residency. For this project Fischer brought artists to observe the Criminal Court in Chicago followed by a discussion over a meal at Taqueria El Milagro in Chicago's Little Village neighbourhood. The conversations were turned into a publication series: The Courtroom Artist Residency Report. Recently Fischer published the book Public Collectors Police Scanner, which is the result of 75 days of note-taking while listening to live police radio in Chicago. In addition to Public Collectors, Fischer is also a member of the group Temporary Services (founded in 1998) and a partner in its publishing imprint Half Letter Press (ongoing since 2008).
Hamja Ahsan is an artist, writer, activist, and curator based in London, UK. He is the author of the book Shy Radicals: The Antisystemic Politics of the Militant Introvert, now adapted into a film currently touring film festivals. He was awarded the Grand Prize at Ljubljana Biennial 2019. He is co-curator of the DIY Cultures festival of creative activism, zines, and independent publishing since 2013. He was shortlisted for the Liberty human rights award for Free Talha Ahsan campaign on extradition under the War on Terror. He is on the editorial board of the Radical Mental Health magazine Asylum. He has presented art projects at PS1 MOMA at New York Art book week, Tate Modern, Gwangju Biennale, Shaanakht festival Pakistan and and CCA Warsaw Poland and forthcoming at Documenta 15. His practice encompasses all media: conceptual writing, building archives, performance, video, sound and making zines.
This event will take place in our project space, where a number of issues of Quaranzine will be physically displayed. Marc Fischer and Hamja Ahsan will both join the evening via video call.
If you would like to attend the event, but cannot make it to our space, you can request a link to the livestream by sending an email to info@page-not-found.nl with the subject 'Livestream Solitary Solidarity'.
Starts at 18:00. Reserve your free ticket here.
Please note: for events we kindly ask you to show a valid proof of vaccination, recovery or negative test result at the entrance, as Page Not Found follows the COVID-19 regulations of the Dutch government. For further information, please visit this website.