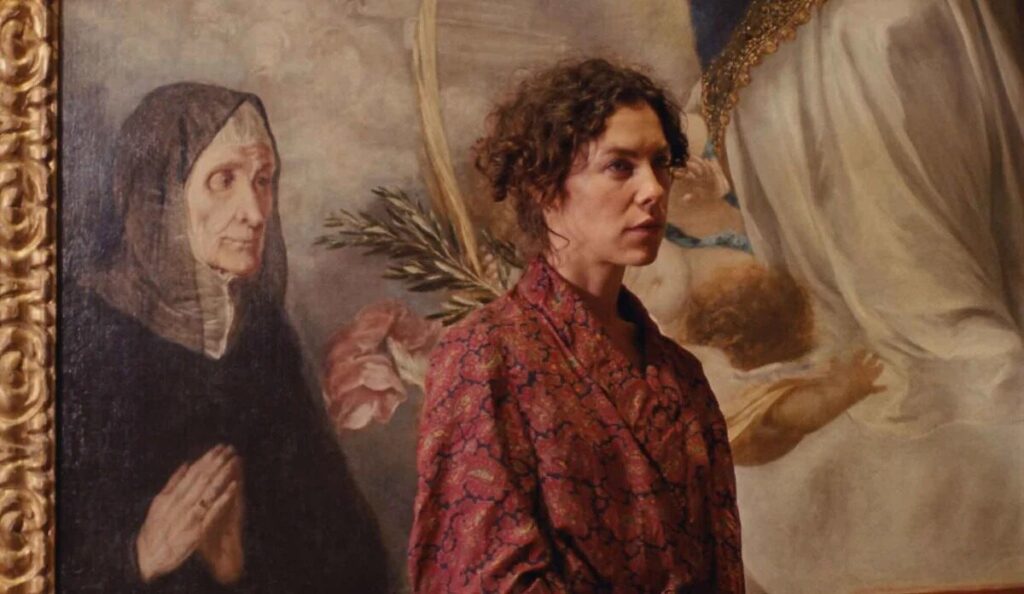 Kino Nights is a new program series at Page Not Found, tailored to present the works by the artists, whose practice encompasses film or video productions as well as publishing. Film, video and other moving images are screened alongside a carefully curated selection of publications and other printed matter by the artist. The diversity of practices ​​of the contributors often escapes disciplinary categorization, therefore makes this series particularly layered and immersive.
For the first Kino Night this year it is our honour to screen "Denim Sky" (2018-2022) by Rosalind Nashashibi alongside an enigmatic complilation of printed matter around the artist's practice.
Made between 2018-2022 across different time scales in London, Lithuania and Scotland. Denim Sky is a feature film in three parts. Together this trilogy is a playful exploration of non-nuclear family and community structures, the theoretical effects of non-linear time travel on human relationships, and how this could aid or problematize communication. The narrative is based on a fiction about a spaceship crew brought together in order to develop a crew mentality, so that they can be used to test a new form of space travel that uses non-linear time. Throughout, the light humour and fraternal mood of the group are disrupted by unsettling and unexpected events.
The screening will take place during Hoogtij#72, starting at the following time slots: 19:10, 20:30, 21:50.
Rosalind Nashashibi is a London-based filmmaker and painter of Palestinian and Northern Irish origin. Her films use a language that is both documentary and speculative, based on the observation of her own life and the world around her in dialogue with elements of fiction or science fiction, often proposing models of collective life. Her paintings also evoke real or more dreamlike spaces where people or animals may appear, often sharing the picture plane with signs and apparitions. Her films are shot at eye level, drawing an intimate space. They become a living material with an active surface made of pulsation and light. Bodies, objects, glances, landscapes share the same sensitive space. 
Nashashibi became the first artist in residence at the National Gallery in London (UK), after the program was re-established in 2020. She was a Turner Prize nominee in 2017, and represented Scotland in the 52nd Venice Biennale. Her work has been included in Documenta 14, Manifesta 7, the Nordic Triennial, and Sharjah 10. She was the first woman to win the Beck's Futures prize in 2003.
Image Caption: Still from Rosalind Nashashibi's "Denim Sky"(2022), courtesy of the Artist.